Boost your entire value chain
Drink-IT is an all-in-one, fully integrated beverage business solution. It delivers everything you need to optimise your entire value chain – from sales and marketing and warehouse and distribution, to finance and tax, production and quality, service management and contract management.
Run your beverage business like the best
Choose Drink-IT and you're getting a business solution that brings operational excellence to your company. Drink-IT's functionality and process flows build on industry best practice, making your company more efficient and effective.
Grow your business easily
Grow faster without getting bigger. Drink-IT makes it easy to increase capacity, remove complexity, implement new processes and expand your business without adding additional resources. Drink-IT takes the complexity out of expanding your business.
Cost-effective solution
Drink-IT's design means it can be typically implemented at 50% of the Total Cost of Ownership of comparable solutions. Implementation time and budget are also extremely predictable.
Fast implementation
Get up and running faster. With our fast, efficient and risk-free implementation method you can start harvesting the benefits of Drink-IT sooner than you think.
Supports all deployment strategies
Drink-IT is flexible. Drink-IT supports single-instance implementation, multi-instance implementations and a hub-and-spoke implementation strategy. Get Drink-IT as a Cloud solution or on-premise, exactly as you like.
Benefit from durability and dedication
Choose Drink-IT and avoid the risk of running outdated, unsupported or random systems. Drink-IT is based on the world's strongest business platform, Microsoft Dynamics NAV, and we place a long-term focus on continuous research and product development.
Built by NORRIQ.
Powered by Microsoft Dynamics NAV
Want to make beverage a better business?
Get our FREE brochure with ideas on how to make your business more profitable. Download the brochure to explore how you can:

Simplify your processes


Boost your entire value chain


Increase productivity and agility


Run your business like the best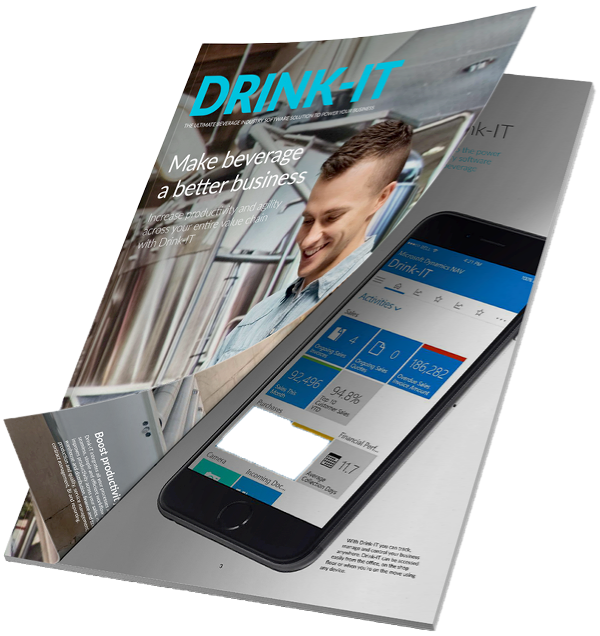 Request your personal Drink-IT demo.