We see the Drink-IT project as a joint effort between business and IT, where we focus a great deal on standardising and simplification of the business processes, which is made possible through the implementation of a standardised IT system based on a 'work smarter' principle. Five to six months in total is a very quick implementation of a project this size – and that made the implementation costs quite reasonable.

Torben Melskens


Strategy Director, Carlsberg IT
About Carlsberg
Brewer J.C. Jacobsen established Carlsberg in 1847. The Carlsberg Group focuses primarily on the production, sale and distribution of beer and soft drinks. Carlsberg is the fourth largest brewery group in the world with more than 41,000 employees, and products sold in more than 150 markets. Carlsberg has a large portfolio of beer and other beverage brands. Its flagship brand – Carlsberg – is one of the best-known beer brands in the world.
Pursuing an ambitious expansion strategy
Carlsberg is pursuing an ambitious expansion strategy to be the leading brewery in Asia through acquisitions of other breweries. They are represented in countries such as India, Malaysia, Cambodia, Laos, Nepal, Singapore, Vietnam and China. Through joint ventures in China and Vietnam, Carlsberg is fully engaged in 24 breweries and has over 5,000 employees.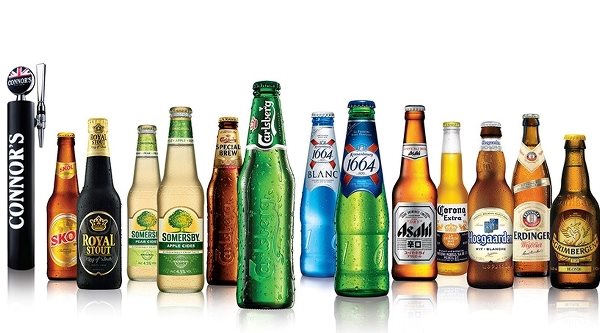 Like many other organisations with an international footprint, Carlsberg faced the challenges of how to provide HQ with critical business insight on the one hand, and on the other hand, how they could obtain synergy efficiency across the breweries with best practice processes.
IT is the tipping point
For a brewery that pursues an acquisition strategy, the road to accelerated expansion goes through its ability to connect new companies with the head office, and ensure efficiency through unified best practice processes. Last but not least, the ability to cope with various laws and regulations is crucial.
Carlsberg knew that intelligent use of IT was key. However, they could not rely on using the many different systems of the subsidiaries. Besides, a rollout of the group software SAP would be a burden not least for the subsidiaries. Carlsberg's solution to the challenges was to introduce a uniform system for all subsidiaries that also worked smoothly with SAP.
With the acquisitions Carlsberg had acquired a number of different systems that could not be integrated with their coporate system SAP. To gain the time and cost benefits of an integrated system, Carlsberg chose Drink-IT for the entire business, as it supports the complex needs of a global brewery and is intuitive and easy to use for the employees in the subsidiaries. The ease of implementing Drink-IT means that the solution is being used with great success in Carlsberg's breweries in India, Laos, Vietnam, China and elsewhere.
Getting acquisitions up and running fast
The solution has become a key lever for swift rollout of lean and user-friendly, best practice and transparent business processes across the head office and Carlsberg´s currently 43 breweries in Asia. The solution has helped streamlining the subsidiaries´ processes across production, quality and recipe, taxes, returnable packaging, sales and marketing, telesales, service, distribution, management reporting and data processing.
"There is no getting around the fact that investing in a state-of-the-art brewery management solution has been a great success for Carlsberg," concludes Torben Melskens, Strategy Director Carlsberg IT.
With Drink-IT, Carlsberg have replaced several disparate systems with one, core system that enables the globally accredited brewery to create a unified and standardized ERP-environment across multiple locations.
"Drink-IT's user-friendliness ensured a smooth transition to a full blown beverage business software solution across our acquisitions – despite the fact that they previously worked with quite simple IT-systems combined with Excel spreadsheets," says Torben Melskens.
"There is no getting around the fact that investing in a state-of-the-art brewery management solution has been a great success for Carlsberg."

Torben Melskens, Strategy Directory


Carlsberg
Accelerating ROI
Carlsberg's investment in a brewery management solution has played a huge role in Carlsberg's ability to get their subsidiaries up and running in a fast and efficient manner, and to cope with local laws, tax and regulations. Furthermore, access to transparent management information has led to faster and more accurate decisions.
"Drink-IT has become a backbone for our entire business. After the implementation we have gained complete transparency across the organization. We have gained a united, complete world view, which provides a closer integration between the head office and the breweries. This way we can ensure an easier benchmarking, and a better follow-up of the breweries' KPI's, MRP and quality control," says Torben Melskens.
The solution has given Carlsberg access to a united, complete world view that has provided a closer integration between the head office and the breweries. This has ensured easier benchmarking and better follow-up on their KPI's, MRP and quality.
Carlsberg's Drink-IT solution offers best practise processes for quality and recipe management, tax management, management of returnable packaging, management of sales agreements and marketing, telesales and service module and distribution management, and more.
"We see the Drink-IT project as a joint effort between business and IT, where we focus a great deal on standardising and simplification of the business processes, which is made possible through the implementation of a standardised IT system based on a 'work smarter' principle. I should like to emphasise that five to six months in total is a very quick implementation of a project this size – and that made the implementation costs quite reasonable," concludes Torben Melskens.