Getting started with the Microsoft Power Platform
​Microsoft rapidly innovates, updates and releases new products and solutions, which makes staying on top of changes difficult. However, this frequent pace of innovation makes Microsoft technologies exciting. One of the biggest new areas from Microsoft that you will read a lot about is the Power Platform.
What is the Power Platform?
The 'Power Platform' is a collective term for three Microsoft products: Power BI, PowerApps, and Power Automate (previously known as Flow). They provide the means to help people easily manipulate, surface, automate, and analyse data and can be used with Office 365 and Dynamics 365 (as well as other third-party apps and other Microsoft services). The Power Platform is possible thanks to the Common Data Services (or CDS), which is essentially the underlying data platform that provides a unified and simplified data schema so that applications and services can inter-operate.
The Microsoft Power Platform is more than the sum of its parts. Connect them together – and to Office 365, Dynamics 365, Azure, and hundreds of other apps – and build end-to-end business solutions.
In plain language, this means that as powerful as these apps (Power BI, Power Apps, and Power Automate) can be, the mutualistic symbiosis between them is where the magic not only lives but thrives. Together with the other apps in Office 365 as well as Dynamics 365 and Azure, the possibilities for improvements are limitless.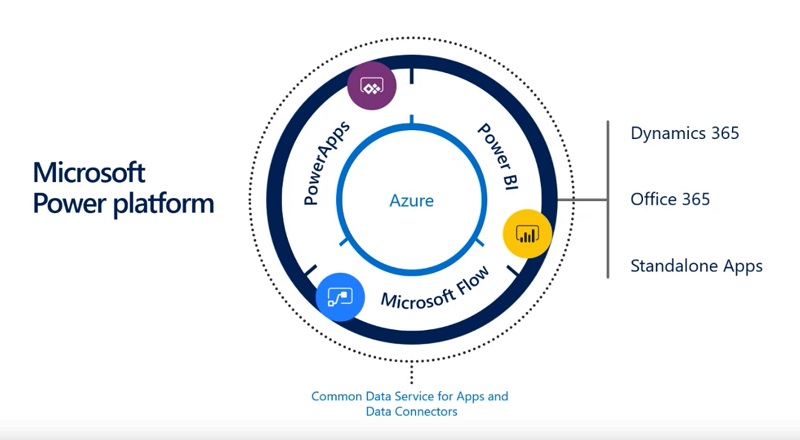 Why is the Power Platform so important?
In this digital age, we are extremely reliant on data – and the amount of data companies are creating is continually increasing. While all this data is inevitable, it is useless companies gain insights and meaning from it – to gain tangible value.
Historically, data analysis, app creation or automation would be achieved by IT/Development teams. This would require staff to outline their requirements and aims, send these requests to their IT (Information Technology) department (or even an external partner) and then see whether it was approved and then, wait for it to be built. This would be time-consuming and would use valuable resources internally or be costly if fulfilled externally. What is more, those requesting the solution would tend to have an immediate need and waiting for weeks could cause internal delays.
Therefore, the Power Platform is so exciting. The Power Platform enables data democratisation – the ability for digital information to be accessible to the typical (non-technical) end-user. It provides three technologies that allow staff to do more with their data themselves without coding knowledge. While it does not allow the integration and flexibility of custom coding, it does supply a simple method for most users to be able to create, automate, or analyse their data in ways which have never been possible for the average worker.
How does the Power Platform fit with the wider Microsoft strategy?
The Power Platform connects to a wide range of data sources – including third-party apps such as Google Analytics and Twitter, however it is extremely powerful when working with Office 365 and Dynamics 365. Microsoft pitched the Power Platform as a way to "unlock the potential of Dynamics 365 and Office 365 faster than you ever thought possible" so you can easily extend, customise and integrate these services.
The Power Platform is going to be a vast area of investment from Microsoft and as it is still fairly new, we expect that it will be regularly updated and improved as the products mature. What is more, as Microsoft continue to focus on bringing all their technologies closer together, we can expect the Power Platform to be a key player for this – helping connect services like Microsoft 365, Dynamics 365, and Azure easily with a low-code/no-code approach.